Organizational Structure


The following is the organization structure of Empresa de Transporte Masivo del Valle de Aburrá Limitada: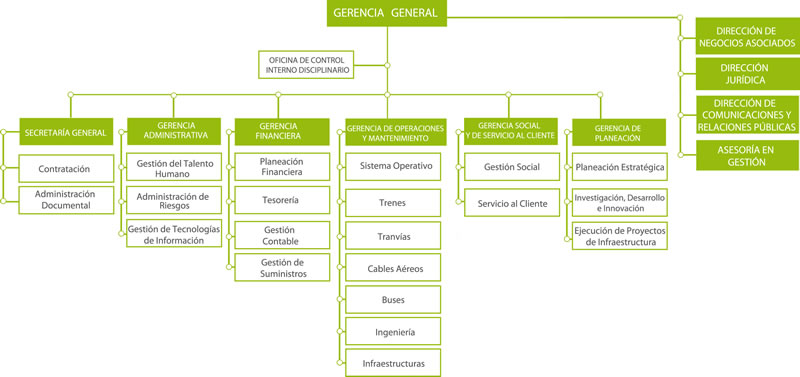 Support Areas: The General Secretary's Office, Administrative Management, and Financial Management.

Strategic Areas: General Management with the support of the Planning Directorate, the Legal Directorate, Management Advisory, and the Communications Directorate.

Mision-Driving Areas: Operations Management, and Commercial and Social Management.
THE METRO BOARD OF DIRECTORS IS COMPRISED BY THE FOLLOWING PERSONS:
Luis Pérez Gutiérrez– Governor of Antioquia

Federico Gutiérrez Zuluaga– Mayor of Medellín

Carlos Marío Montoya Serna– Antioquia Administrative Planning Department Director
César Augusto Hernández Correa– Medellín Administrative Planning Department Director
Representatives of the Office of the President of the Republic of Colombia:
Principal Directors
Cecilia Álvarez-Correa Glen
Eugenia María Londoño Escobar
Augusto López Valencia
Guillermo Ricardo Vélez Londoño
Deputy Directors
Álvaro Gómez Jaramillo
Sergio Restrepo Cadavid
Carlos Gilberto Uribe Correa
Mauricio Vélez Cadavid
Javier Alberto Hernández López