Acknowledgements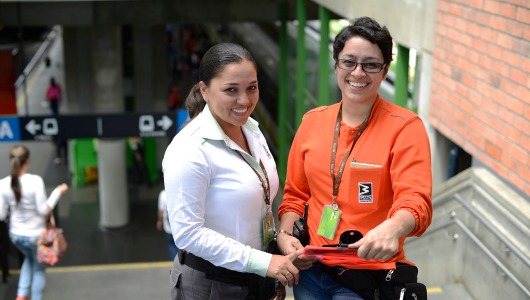 Eight consecutive years as the best public company in Medellín,

according to Medellín Cómo Vamos 2013 citizen perception survey.
It is the number one company in Colombia regarding innovation and customer service,

and number seven among the most responsible companies, and the most admired companies in the country with best service quality according to Datexco 2013 Élite Empresarial survey.
The best company to work for in the passenger transportation sector

and number four among the public companies in the list of 100 best companies to work for, according to MERCO Personas 2013.
Spot number 19 among the 100 best reputed companies in Colombia, and spot number three among the public companies,

according to MERCO Empresas 2013. Also, the number two company in the mass passenger transit sector that made the list.
The number two brand with the best social standing in the country, and number one in the transportation sector.

Also, number two as the most "energetic" brands in Colombia, thanks to its communications, vision, differentiation, innovation and dynamism, according to Goodbrand 2011.
Recognized as one of the ten Leading Companies - Antioquia 200 years,

chosen by the Antioquia Governor's Office and by the Medellín Mayor's Office.